On November 29, 2022, the 2022 Shanghai-Hong Kong Cooperation and Development Forum, jointly organized by the Shanghai Academy of Social Sciences (SASS), the Hong Kong, Macao, Taiwan and Overseas Chinese Committee of the Chinese People's Political Consultative Conference (CPPCC) Shanghai Committee, and the Better Hong Kong Foundation, was held in Shanghai with the theme of New Pattern, New Process, New Cooperation. Dong Yunhu, Chairman of the CPPCC Shanghai Committee, Zong Ming, Vice Mayor of Shanghai, Chan Mo-po, Financial Secretary of Hong Kong, Deng Zhonghua, President of Chinese Association of Hong Kong & Macao Studies (CAHKMS), Wang Dezhong, President of SASS, and Chan Ronnie, Chairman of the Executive Committee of Better Hong Kong Foundation attended the forum. Zhu Guohong, Vice President of SASS, attended the meeting and hosted the keynote speech session. Zhang Daogen, former President of SASS and Director of SASS Hong Kong and Macao Studies Center attended the meeting and made a conclusion speech.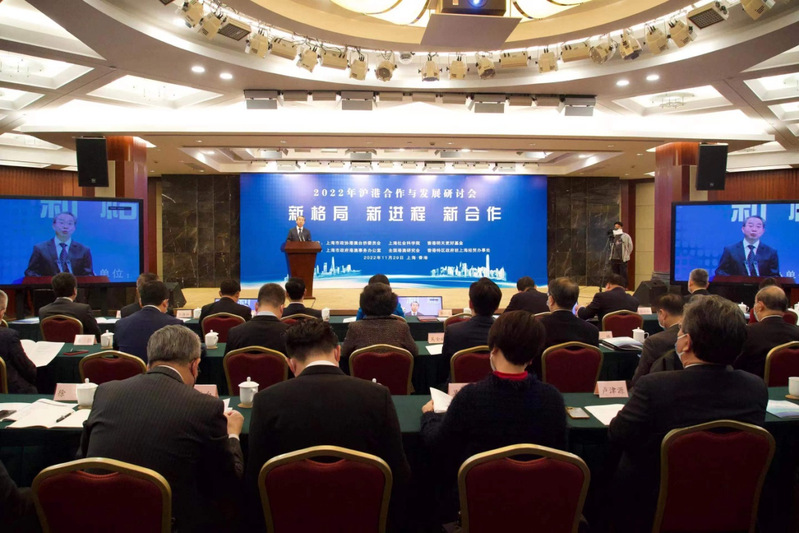 Focusing on the Shanghai-Hong Kong cooperation and development of technological innovation, the participants, including the heads of relevant government departments, scholars from universities and representatives of entrepreneurs from Shanghai and Hong Kong, had a special discussion. They reviewed and summarized the achievements of Shanghai and Hong Kong in technological innovation cooperation in recent years from different aspects, offered suggestions in the top-level design, infrastructure construction, and the play of market forces, and proposed future initiatives and paths to further deepen the cooperation in technological innovation between Shanghai and Hong Kong.
The seminar was supported by Hongkong and Macao Affairs Office of Shanghai People's Government, CAHKMS, and Hong Kong Economic and Trade Office in Shanghai. The seminar was available both online and onsite, with over 100 participants, including government officials, experts and scholars, entrepreneur representatives and media personnel from Beijing, Shanghai and Hong Kong.