On November 24, 2022, Mr. Dmitrii Lukiantsev, Russian Consulate General in Shanghai and his colleagues visited Shanghai Academy of Social Sciences (SASS). Quan Heng, Secretary of the CPC SASS Committee met with the guests and discussed topics such as the academic exchanges between SASS and Russia.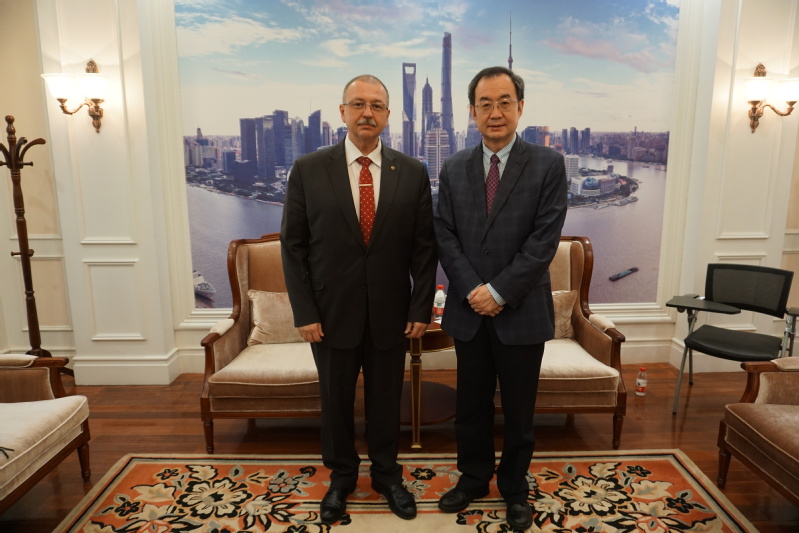 Quan Heng welcomed the guests and briefed on the discipline construction and think tank development of SASS. When talking about previous cooperation between SASS and Russia, Quan Heng said that SASS had a long history of cooperating with think tanks, universities and research institutions like Russian Academy of Sciences and had achieved remarkable results. He said that SASS would continue to increase exchanges with relevant academic institutions in Russia, conduct research and hold academic seminars on topics of mutual interest to continuously improve bilateral academic exchanges and contribute to the relations between China and Russia. During the meeting, Quan Heng also explained to Lukiantsev about the Chinese path to modernization and common prosperity proposed in the Report to the 20th CPC National Congress.
Lukiantsev expressed thanks to Quan Heng's warm welcome and the contributions SASS had made to promote China-Russia academic and cultural exchanges. He also hoped that the two sides would be able to hold onsite academic meetings to maintain and deepen exchanges and cooperation. During the meeting, Lukiantsev congratulated on the success of the 20th CPC National Congress. He said that the Report to the 20th CPC National Congress was widely applauded in Russia, and that Russia highly appreciated China's Party and government for always adhering to the people-centered philosophy of development and the achievements made when building a moderately prosperous society in all aspects.

Oleg, Vice Consul of Consulate General of the Russian Federation in Shanghai also visited SASS. Cheng Fucai, Director of SASS Office of International Cooperation, and Pan Dawei, Director of SASS Center for Russia and Middle Asia Study attended the meeting.