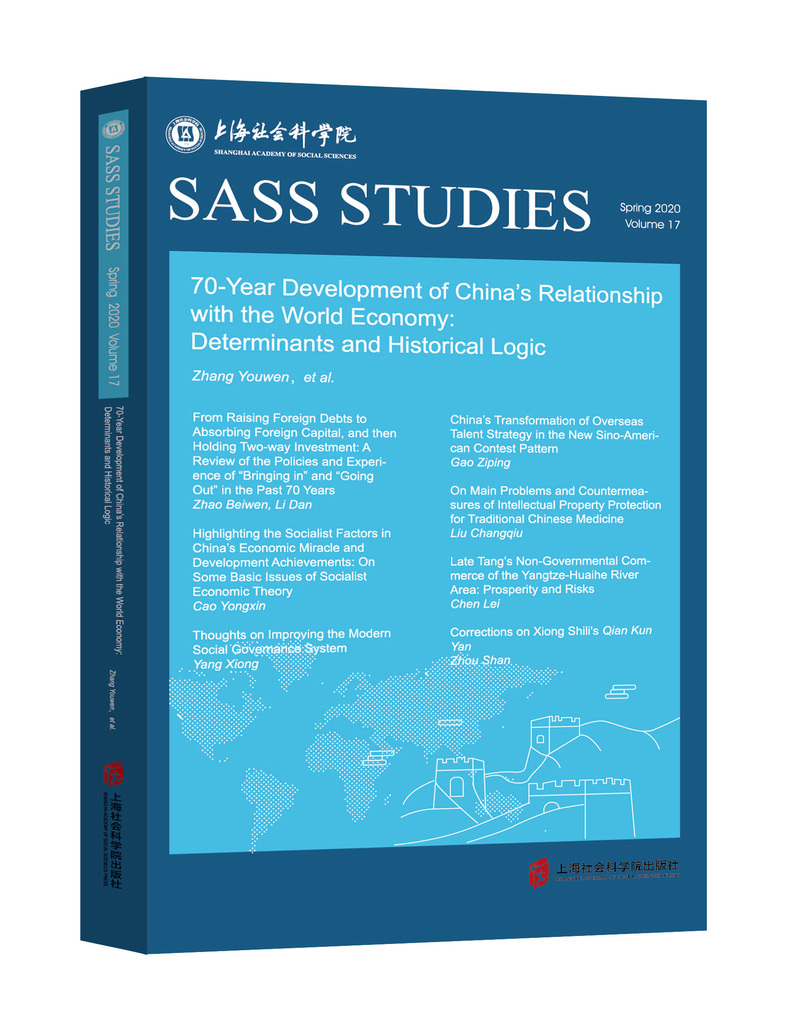 70-Year Development of China's Relationship with the World Economy: Determinants and Historical Logic
ZHANG Youwen
ZHANG Youwen, Research Professor, Institute of World Economy, SASS
E-mail: zyw@sass.org.cn
This paper in Chinese was originally published in World Economy Studies, 2019 (07).
Abstract: 70 years past since the PRC foundation, China's relationship with the world economy can be divided into four periods, each of which has specific connotations as well as successive progressions. There are four determinants of the strategic choice for foreign economic relations: international environment is the external condition; development goal is the fundamental direction; theoretical support is the guiding ideology; domestic institution is the promoter. The changes in the four determinants in four periods prove the endogenous structure and historical logic during the development of China's relationship with the world economy.
Keywords: 70th Anniversary of the Founding of the PRC; Open-up Strategy; International Environment; Opening-up Theory; Open Economic System
From Raising Foreign Debts to Absorbing Foreign Capital, and Then Holding Two-way Investment:A Review of the Policies and Experience of "Bringing in" and "Going Out" in the Past 70 Years
ZHAO Beiwen, LI Dan
ZHAO Beiwen, Research Professor, Deputy Director, Institute of World Economy, SASS
E-mail: zbw@sass.org.cn
LI Dan, PhD Candidate, Institute of World Economy, SASS
This paper in Chinese was originally published in World Economy Studies, 2019 (08).
Abstract: When we look back on the 70 years since the founding of the PRC, the year of 1978 is the watershed between the two historical periods. In the first 30 years, China experienced the pain of borrowing money from the Soviet Union and suffered a decade-long disaster. The strategic decision of reform and opening-up made by the CPC Central Committee in 1978 is not a crucial choice that China has made regarding its destiny in modern times, but also a historical choice allowing the CPC and the state to rise from the crisis amid internal and external troubles. In the late 40 years, the reform and opening-up and institutional innovation led to the rapid development of two-way investment in China. With the acceleration of opening-up and the adjustment of foreign investment policy, China's two-way investment experienced the stage of starting at the same time, the stage of focusing on introduction, the stage of rapid development, and the stage of keeping pace with each other. Thanks to the construction of the "1+3+7+1" pattern for pilot free trade zones, foreign investment and outward investment in free trade zones further drove the development of China's two-way investment. Opening-up policy and the institutional innovation are significant experience from the huge development of "bringing in" and "going global" over the past 70 years after the PRC was founded.
Keywords: Two-way Investment; the PRC; 70 Years
Highlighting the Socialist Factors in China's Economic Miracle and Development Achievements:
On Some Basic Issues of Socialist Economic Theory
CAO Yongxin
CAO Yongxin, Research Professor, Institute of Chinese Marxism Studies, SASS
E-mail: cyx@sass.org.cn
This paper in Chinese was originally published in Studies on Mao Zedong and Deng Xiaoping Theories, 2019 (04).
Abstract: Over the 70 years after the PRC was founded and the 40 years after reform and opening-up, we have gained a series of major historic achievements, especially, we have realized the economic miracle of long-term high-growth and embraced the new era of national prosperity for socialism with Chinese characteristics. Socialism with Chinese characteristics is socialism and these achievements have been gained under the socialist system. We should highlight the underpinning socialist factors. The economic miracle and development achievements are supported by unique institutional superiority. We must understand that China's economic development achievements are linked up with a series of the socialist factors such as China's socialist system, socialist economy and politics, socialist market and government, socialist market economy and inherent planning, public economy and non-public economy in the primary stage of socialism, socialist modernization and world economy, domestic market and international market, socialist production purpose and production motivation, socialist laborers and human resources, and socialist economic practices and socialist economic theories, as well as their unique advantages.
Keywords: Socialism; Economic Theories; Socialist Political Economy with Chinese Characteristics
Thoughts on Improving the Modern Social Governance System
YANG Xiong
YANG Xiong, Research Professor, Institute of Sociology, SASS
E-mail: yangxiong@sass.org.cn
This paper in Chinese was originally published in Studies on Mao Zedong and Deng Xiaoping Theories, 2019 (07).
Abstract: Though China will remain in the period of strategic opportunity in the next five years, the internal conditions and external environment will undergo tremendous changes. The external and internal environments of social governance will be more complex, but the principal, institutional, and development conceptual drives for China's social development will be far from the full release. To improve the modem social governance system during the 14th Five-Year Plan period, we must pay attention to the profound impact of social structure, political space, and new technological revolution on human. We must prevent and resolve social contradictions and risks, address the decline of economic dynamics, and improve the structure of social governance. We must construct the localized social governance theory, innovate and perfect government governance, and foster the pluralistic system of "co-construction, joint governance and sharing". While enhancing the quality and level of social governance in improving people's livelihood, we must focus on the integration of new technological means with traditional culture and social forces.
Keywords: The 14th Five-Year Plan; Modern Social Governance; Risks and Challenges; Major Policy Suggestions
China's Transformation of Overseas Talent Strategy in the New Sino-American Contest Pattern
GAO Ziping
GAO Ziping, Research Professor, Institute of Information Sciences, SASS
E-mail: caocepine@sass.org.cn
This paper in Chinese was originally published in Journal of East China Normal University (Humanities and Social Sciences), 2019 (03).
Abstract: Since President Donald Trump took office, the United States has established protectionism, populism arguments and unilateral policy on global talent flow and Sino-American talent exchange. Moreover, this situation has been intensified and validated in the recent mid-term election. Under such circumstance, China has to accelerate the transformation of overseas talent strategy and develop countermeasures, which involve screening by big data technology, market-oriented deployment and attracting talents mainly by central cities, so as to forge international competitiveness, establish competitive talent system with Chinese characteristics, and achieve the strategic goal of "gathering outstanding talents across the world and building a great power through talents".
Keywords: New Sino-US Contest Pattern; Overseas Talent; Strategic Transformation
On Main Problems and Countermeasures of Intellectual Property Protection for Traditional Chinese Medicine
LIU Changqiu
LIU Changqiu, Research Professor, Institute of Law, SASS
E-mail: lcq@sass.org.cn
This paper in Chinese was originally published in China Journal of Traditional Chinese Medicine and Pharmacy, 2019 (11).
Abstract: Intellectual property protection for traditional Chinese medicine (TCM) has undergone a development stage from sole reliance on non-disclosure of technology to higher reliance on the legal means. At present, many Chinese laws, including the Law of the People's Republic of China on Traditional Chinese Medicine, attach great importance to the intellectual property protection for TCM. However, notable deficiencies are still exposed in protection measures, for which appropriate countermeasures must be taken to deal with these deficiencies.
Keywords: Traditional Chinese Medicine; Intellectual Property; Protection
Late Tang's Non-Governmental Commerce of the Yangtze-Huaihe River Area: Prosperity and Risks
CHEN Lei
CHEN Lei, Associate Research Professor, Institute of History, SASS
E-mail: seedc@yeah.net
This paper in Chinese was originally published in Historical Review, 2018 (06).
Abstract:With focus on poems and notes of the Tang Dynasty, this paper makes retrospect to various manifestations for development and prosperity of non-governmental commerce across the Yangtze-Huaihe River Area in the late Tang Dynasty. Moreover, this paper reveals multiple adverse factors of commercial development, which gradually deteriorated over time. Such pros and cons jointly rolled out the authentic picture of regional commercial development in the Yangtze-Huaihe River Area. The prosperities and subsequent vulnerabilities were closely related to local influence of political situation, environmental peace, the chaos and social and natural conditions in the late Tang Dynasty.
Keywords: The Yangtze-Huaihe River Area; Non-Governmental Commerce; Risks
Corrections on Xiong Shili's Qián Kūn Yǎn
ZHOU Shan
ZHOU Shan, Research Professor, Institute of Philosophy, SASS
E-mail: zhoushan@sass.org.cn
This paper in Chinese was originally published in Academic Monthly, 2018 (12).
Abstract: Xiong Shili's Qián Kūn Yǎn divides Confucius life into early and late phases cutting in at the age of 50. He thinks that Zhou Yi was written by Confucius when he was 50 years old. He deems that: HeavenandEarth, are nature/attribute, soul, quality and energy. It is the relationship between spirit and material. In the divination interpretation of Qián/Heaven and Kūn/Earth, Xiong thinks that Qián/Heaven is a revelation of life from hidden to obvious, and from obvious to prosperous. It is a description of the common people launching a revolution against and finally wiping out the ruling class for their inalienable right of freedom. The line statements of "Huang Shang/yellow clothes" of Hexagram Kūn 65 is a metaphor for the revolution of the people, the abolition of the right and position of the "Son of Heaven/emperor" system to be shared by the public. This article corrects the above point of view, believing that, as early as more than 100 years before the birth of Confucius, the aristocratic class of the Zhou dynasty had been skilled in using Zhou Yi to solve difficult problems; the attributes of Qián and Kūn are firmness and softness, and their symbolic objects are heaven and earth, father and mother, etc.; the line statements of six Hexagrams Qián reveals the spirit of heaven of self-improvement while the same line statements of the Hexagram Kūn reveals the spirit of the earth that a man of virtue, like the earth, accommodates all things. On the basis of the above corrections, the three main mistakes in Qián Kūn Yǎn can be summarized like this: one is the unfounded division of Confucius into two periods of early and late years with very different ideas. Second is that, contrary to reliable historical data, Confucius was arbitrarily determined to be the author of Zhou Yi. Thirdly, regardless of the original meaning of the line statements in the Hexagram Qián and Hexagram Kūn, he made arbitrary interpretations of the revolution of the people which became the theory of Confucius in advocating social revolution. These misunderstandings have, to a certain extent, caused confusion to the healthy development of the study of Yi-ology and Confucianism.
Keywords: Xiong Shili; Qián Kūn Yǎn; Line Statements of Hexagram; Zhou Yi